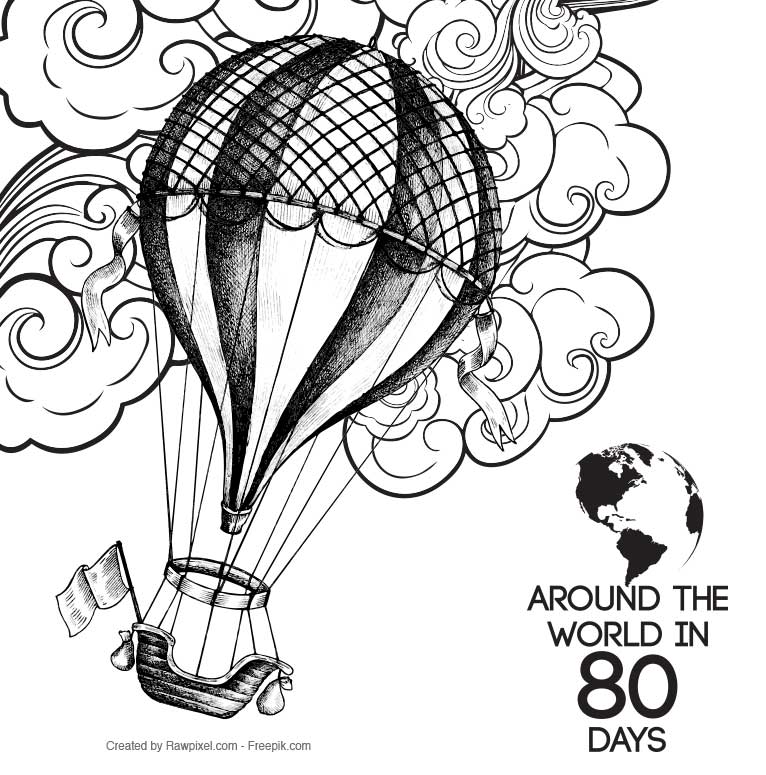 ---
Free Ebooks: Around the World in 80 Days

---
Around the World in 80 Days is an adventure novel by the French writer Jules Verne published in 1873. In the story, Phileas Fogg of London and his newly employed French valet Passepartout attempt to circumnavigate the world in 80 days on a 20,000 pound wager (about 2million pound in 2017) set by his friends at the Reform Club.
The technological innovations of the 19th century had opened the possibility of rapid circumnavigation, and such prospect fascinated Verne and his readership.  Three technological breakthroughs, in particular, occurred in 1869–70 that made a tourist-like around-the-world journey possible for the first time:
Consequently, it notably marked the end of an age of exploration and the start of an age of fully global tourism which could be enjoyed in relative comfort and safety. It sparked the imagination that anyone could sit down, draw up a schedule, buy tickets and travel around the world, a feat previously reserved for only the most heroic and hardy of adventurers.
Even up to the 20th and 21st century, this story still inspire a deep sense of exploration, adventure and imagination. Around The World In 80 Days has been adapted into television series, cartoons, films, theatre and even games.
About the author, Jules Vernes
Jules Verne (1828 – 1905) is widely regarded as the father of science fiction today. Verne wrote books about a variety of innovations and technological advancements years before they were practical realities. Although he died in 1905, his works continued to be published well after his death, and he became the second most translated author in the world.
Apart from the novel Around the World in 80 Days, he has written several other well-loved science fiction literatures such as Journey to the Centre of the Earth, Twenty Thousand Leagues Under the Sea and From Earth to Moon. Verne imagined many things that would become realities in the future: Video conferencing and lunar modules, among many others. Verne himself didn't live long enough to see these inventions, but his writing certainly did. In 1989, his great-grandson discovered an unpublished manuscript. Its title? Paris in the Twentieth Century. As you would expect of Verne, the novel was full of futuristic technologies that had actually been invented by the time it was discovered in the real twentieth century: skyscrapers, worldwide communications networks and many others.
Jules Verne Predictions and Prophecies Newsreel PublicDomainFootage.com
Jules Verne – ONE minute Biography
---
Source:
https://www.unboundworlds.com/2013/10/five-facts-about-futurist-father-of-science-fiction-jules-verne/
http://www.ancientpages.com/2018/07/13/jules-verne-a-man-ahead-of-his-time-who-predicted-the-future/
https://en.wikipedia.org/wiki/Around_the_World_in_Eighty_Day