Persistence
---
Man Works 30 Years to Turn Sandbar into Lush Forest
In 1979 when he was 16, Jadev Payang saw something on the banks of the river Brahmaputra that made him cry – thousands of snakes and reptiles dying on a barren sandbar, where they had washed up after a flood. Jadev, who goes by the nickname Molai, made it his mission to prevent other animals in the region from dying in the same manner, but the Indian government did not understand his vision and refused to help.
Molai persisted alone for 30 years, planting trees and even importing ants, to create an ecosystem that would thrive on its own. In 2008, it was discovered by authorities who were chasing a herd of 115 elephants; they were surprised and impressed at what he accomplished. It is now named Molai forest and home to dozens of different species, including tigers, rhinoceros, deer, rabbits, and apes.
Abstract from http://www.oddee.com/item_98975.aspx
---
Postman Builds Palace Over 33 Years Using Tiny Stones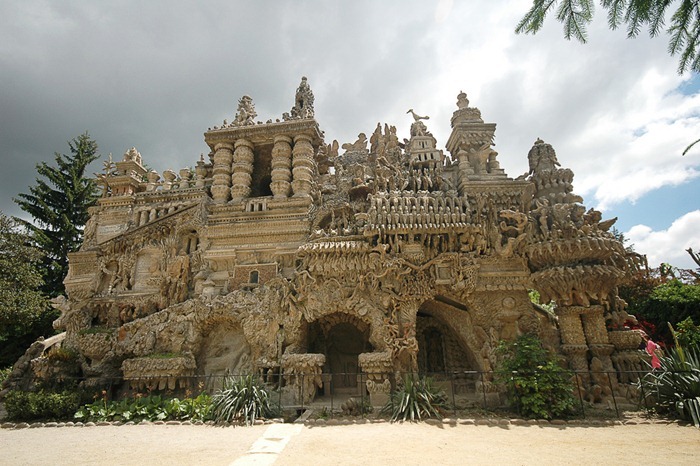 Joseph-Ferdinand Cheval was working as a postman in the southeast of France in late 1800s. Because his daily routine involved walking about 20 miles (32km) and mostly in solitude, he daydreamed a lot. One day, he tripped over a small limestone rock. Astonished by its shape and form, he recalled his childhood dream of building a castle. This began his stone collection during his mail delivery.
Over the next 33 years, Cheval assembled the stones into what he called 'Palais Idéal' or the ideal palace, one of the oddest monuments of all time. By his count, it took more than 9,000 days or 65,000 hours. Every year, this monument still attracts about 100,000 visitors a year to the otherwise forgettable village of Hauterives, north of Valence.
"I wanted to prove what willpower can achieve," Facteur Cheval wrote.
Adapted from http://www.amusingplanet.com/2011/05/postman-who-built-palace-with-stones.html and http://www.oddee.com/item_98975.aspx
---
One Armed Woman, One Legged Man Practice Dance for One Year
Ma Li was a promising professional ballerina when she lost her right arm in a car accident in 1996 at the age of 19. Utterly distraught, she attempted suicide only to be saved by her parents. Eventually, she learned to live with her disability and soon opened a small bookstore.
In September 2005, she met 21-year-old Xiaowei, a cyclist training for the national Special Olympics. When he was 4 years old, he fell off a tractor and the doctors had to amputate his leg. His father asked him if he would be afraid. He answered no as he couldn't comprehend what would be so different. His father explained that he would face many challenges and difficulties in life. In all innocence, he asked, "What are 'challenges and difficulties'? Do they taste good?" With tears in his eyes, his dad laughed and said, "Yes, they're like your favorite candies. You just need to eat them one piece at a time!"
Li envisioned them dancing together but Xiaowei initially could not understand how he could "dance," so Li invited him to see her performing "Hand in Hand" with another male actor. He felt that he saw a perfect soul dancing on the stage and agreed to give it a try. He had no dancing background and she is a perfectionist. Just for the one "drop" move he landed her on the hard floor more than one thousand times! To get the move right, they started at 8 AM and finally nailed it shortly after 8 PM!
In April 2007, they were one of the finalists among 7,000 competitors in China's 4th CCTV national dance competition. They were the first handicapped couple to ever enter the competition. They won the silver medal with a 99.17 score and the audience popular vote. And Li and Xiaowei became an instant national hit.
Adapted from https://bolstablog.wordpress.com/2009/03/31/ballet/
---
 Grandmother Passes Driver's License Test after 960 Attempts
Photo: MotorTrivia.com
Cha Sa-soon lived alone in the tiny mountain village of Sinchon in South Korea. Born to a peasant family with seven children but no land, Ms. Cha spent her childhood working in the fields and studying at an informal night school. It was not until she turned 15 that she joined a formal school as a fourth grader. But her schooling ended there a few years later.
"Father had no land, and middle school was just a dream for me," she said.
Ms. Cha said she had always envied people who could drive, but it was not until she was in her 60s that she got around to trying for a license. "Here, if you miss the bus, you have to wait another two hours. Talk about frustration!" said Ms. Cha, who had to transfer to a second bus to get to her driving test site and to yet another to reach her market stall.
"But I was too busy raising my four children," she continued. "Eventually they all grew up and went away and my husband died several years ago, and I had more time for myself. I wanted to get a driver's license so I could take my grandchildren to the zoo."
Needless to say it was – literally – a difficult road. For three years starting in April 2005, she took the test once a day five days a week. After that, her pace slowed, to about twice a week. But she never quit. Grandma Sa-soon failed the written portion, consisting of 40 multiple choice questions 949 times; the concept of many of the questions were confusing to this elderly woman living in a remote village.
Finally, on the 950th attempt she got a passing grade of 60 and moved on to the actual driver's test which she only failed 4 times before getting passing marks.
By this time all of South Korea knew of her persistence and she became a national hero. She was even given a Kia Soul and appeared in their commercial.
Adapted from http://www.telegraph.co.uk/news/worldnews/asia/southkorea/7983082/Grandmother-passes-driving-test-at-960th-attempt.html, http://www.nytimes.com/2010/09/04/world/asia/04driver.html and http://www.oddee.com/item_98975.aspx
---