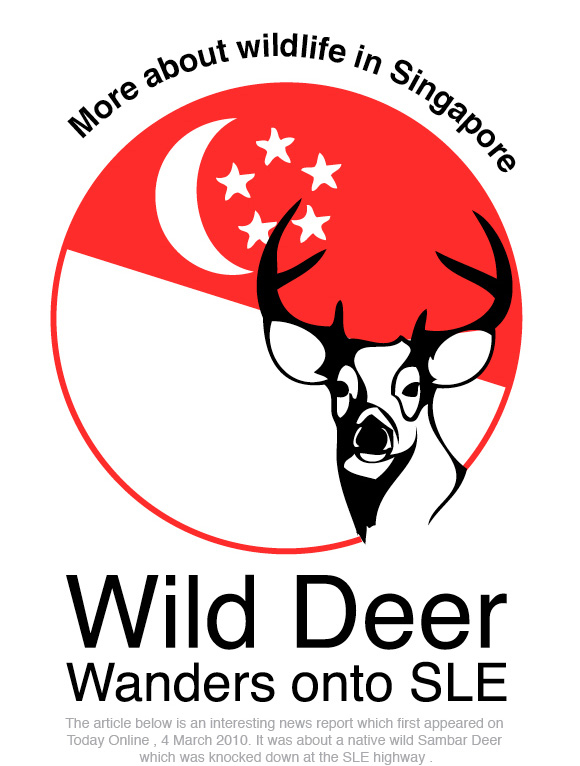 SINGAPORE – A wild deer was injured on an expressway near Mandai Zoo after it dashed onto onncoming traffic and ran into a car yesterday morning.
The Sambar deer had to be put down later due to its extensive injuries.
At about 5.30am yesterday, the police received a call about an injured deer lying along the Woodlands Seletar Expressway (SLE) towards Central Expressway.
Eyewitnesses told MediaCorp that the deer, believed to be about three or four years old, was so big that it blocked an entire lane, causing a traffic jam.
A caller to the MediaCorp Hotline, Mr Teo Ah Chong, said he stopped his car when he saw the animal on the expressway.
"I was driving along the SLE … Near the Mandai Zoo, I filtered onto the left lane. That's when I saw the deer dash onto the expressway and it was running around in a panic. I stopped my car, but the deer crashed into my car and fell down," Mr Teo said.
Wildlife Reserves Singapore, which sent a team to the scene, said the animal had to be euthanised as the animal was badly injured. It suffered a deep gash to its hip, its antlers were broken and it was bleeding from the nose.
The dead deer was not from the zoo.
"At Night Safari, all our sambar deer are tagged with ear notches within the first week of birth. The identified animal does not carry the same identification," said Mr Kumar Pillai, assistant director of Zoology, Night Safari.
A National Parks spokeswoman told MediaCorp that "there is a small population of the sambar deer in the central catchment nature reserve".
"They are herbivorous and there is sufficient food for them in the forest. But they are relatively shy animals and are seldom seen in the open. There have been occasional sightings of them," she said.


---
More stories about Singapore:




Other wild life stories: