term 'Disruptors' doesn't sound like music to one's ears, does it? It sounds like it refers to someone that upsets, disturbs and gives others an unsettling feeling. How can all of that be good? After all, don't we all prefer to stay in our comfort zone? Well, as Heraclitus once said, 'Change is the only constant in life'. This statement is undoubtedly true in our modern world today. Without change, how can we progress and become better? These are well-known Disruptors who have gone against status quo and created new systems and businesses that help the rest of us.  
---
Mark Shuttleworth Founder, Canonical Age: 39 Headquarters: London, U.K. Founded: 2004 Website: ubuntu.com Canonical's Ubuntu is an open-source Linux-based operating system that runs the same platform across multiple devices. Or, in plain English, its software can turn your tablet, laptop, smartphone or television into one connected system. That puts it in direct competition with Apple's iOS and Google's Android and with Microsoft. "There are deeply entrenched competitors that won't be dislodged just by doing what they did and doing it faster or better just by 5 or 10%," he says. "If there's an opportunity, it's to shake things up and attack the problem entirely differently." Part of shaking things up means offering the basic platform for free and charging for enterprise and cloud services. This guy is one tough competitor. His idea of a relaxing vacation spot is Antarctica or the International Space Station. Yes, he's been to both. He'll need that moxie to muscle into the mobile market. — Karsten Strauss
Fast Fact: 20 million users run Ubuntu on PC.
---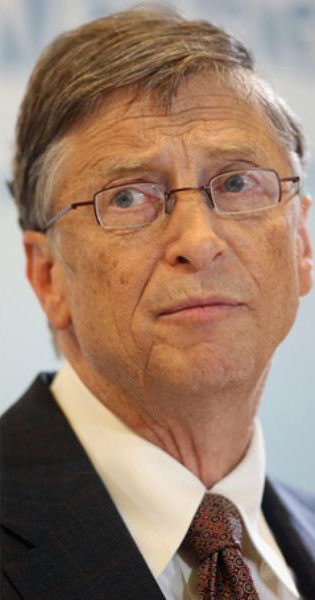 Bill Gates Founder of Microsoft
Fast Fact: Gave awesome computing power to millions
---
 Gene Wade 
Founder, UniversityNow
Age: 43
Headquarters: San Francisco, CA
Founded: 2010
Website: unow.com
College grads owe a chest-seizing $900 billion on their tuition—a crippling burden for most. When Wade founded UniversityNow, his mission was more than just making college more accessible to working adults by offering online, self-paced degrees; he also aimed to do it all without forcing students to take out loans. As he puts it, "The only thing worse than not having a college degree is falling short of finishing and defaulting on student loans." Two key characteristics of UniversityNow that distinguish it from a swelling crowd of rivals: absurdly low fees (as little as $2,600, which includes tuition and books for as many courses students can complete in a year) and fully accredited degrees, from an associate's to an M.B.A., which online programs don't offer. — Caroline Howard
---
Tom X. Lee
Founder, One Medical Group
Age 45
Headquarters: San Francisco, Calif.
Founded: 2007
Website: onemedical.com
Early in his career, physician Lee, wondered, "How do you make a broken system more efficient?" That question became the basis for One Medical Group, which offers a new model for primary care. The service provides some 90 physicians in metro areas from the Bay Area to New York City. Its iPhone app lets you schedule same-day appointments, get test results, ask for an Rx and tap into your medical records. All for $150–$200 year on top of what your insurance costs. Efficiencies allow doctors to spend a little more time with each patient. Says Lee: "I got tired of hearing everyone complain. I decided to fix the system." He's backed by $77 million in venture financing. — Ryan Mac
---
Related Articles about Technology: