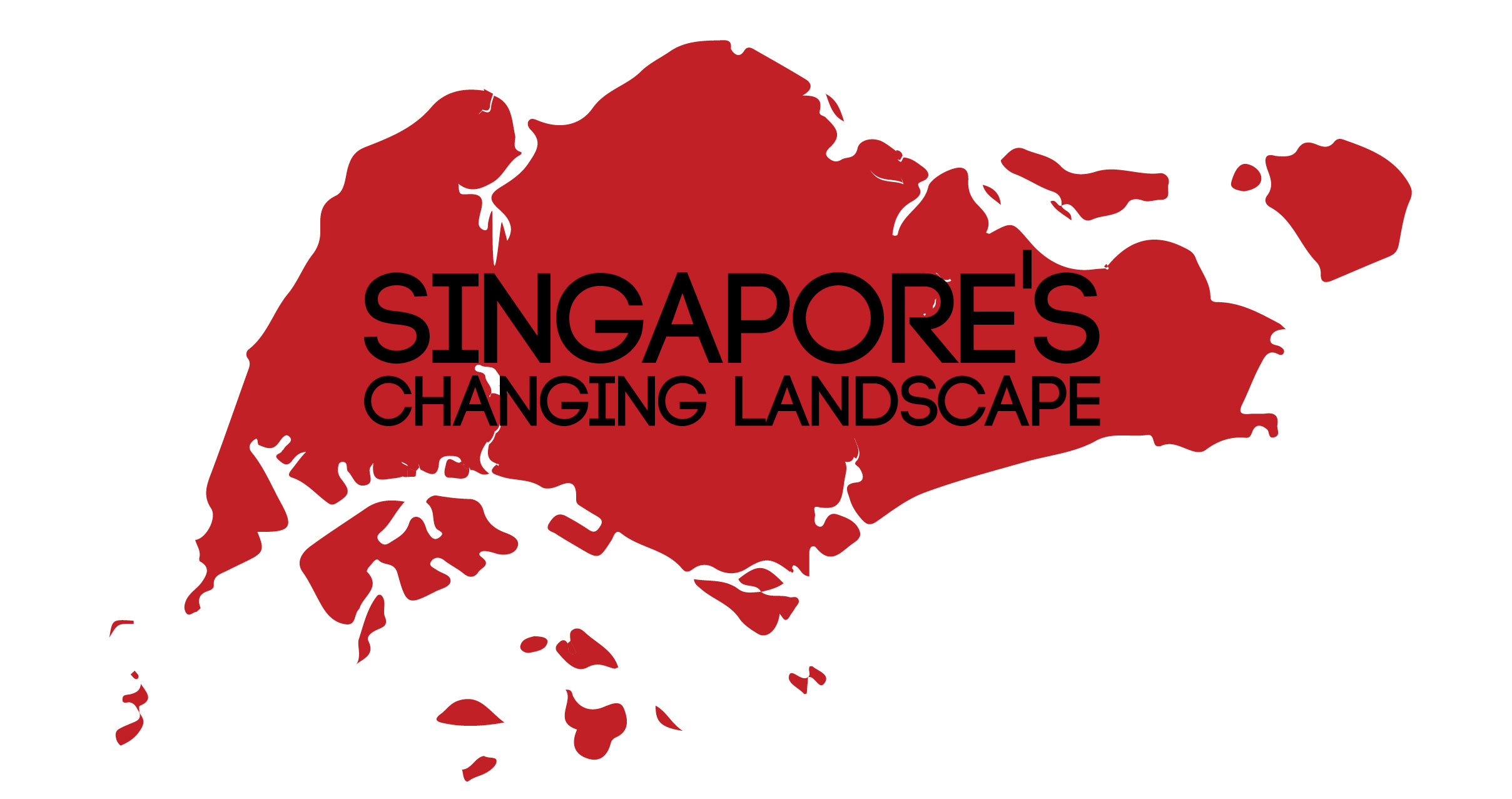 As Singapore enters into a new chapter of history-making after her 50th birthday, many grand plans have been put in the pipeline for the next 50 years. Here's 3 of the many major changes we can expect to enjoy and marvel at:
1. Park Connector Network
The National Parks Board (NParks) on Sunday (Sep 20) marked the 25th anniversary of the Park Connector Network (PCN) in Singapore, with the planting of 200 trees at Balam and Pelton Canal Park Connectors by members of the community including schools, corporate organisations and residents of MacPherson.
The island-wide network of green links improve connectivity to major parks, nature sites and housing estates in Singapore, by taking advantage of drainage and road reserve land.
Over the years, the network has stretched to more than 300km in length. It has also evolved beyond its initial function of connecting parks, and now sports facilities such as bicycle-wheeling channels along overhead bridges along the routes.
An additional 30km of Park Connectors will be completed in Ang Mo Kio, Lorong Halus, and Ulu Pandan over the next three years. NParks aims to eventually grow the PCN to 360km long by 2020.
Image Source: https://www.ura.gov.sg/ms/walkandcycle/about/pcn
Adapted from http://www.channelnewsasia.com/news/singapore/nparks-marks-25-years-of/2139094.html
---
2. New Mandai
Mandai is set to become bigger and better, with plans underway to turn the leafy swathe of land in northern Singapore into a 126ha eco-tourism hub.
The area now houses the Singapore Zoo, the River Safari and the Night Safari. But from as early as 2020, they will be joined by two new attractions – the Bird Park, which will be relocated from Jurong, and the new Rainforest Park.
There will also be eco-sensitive accommodations such as camps, tents and family rooms.
At the Rainforest Park, visitors can go on a "multi-layered adventure" on aerial walkways that extend from the forest floor to the treetop canopies.
Over at the Bird Park, visitors can observe birds in their natural environments at the nine aviaries with different landscapes from around the world, such as wetlands, bamboo forests and rainforests.
The developer also announced plans to build an eco-bridge, similar to the one over the BKE, spanning Mandai Lake Road. The road links the central and northern parts of the Central Catchment Nature Reserve, with the whole Mandai area just outside of it.
Mr Mike Barclay, group chief executive of the Mandai Safari Park Holdings, said: "We want to give Singaporeans a nature and wildlife destination that they can call their own. Visitors have asked for more novel, engaging and immersive experiences and we hope the new Mandai nature precinct will provide all that and more. We are also mindful of the need to provide appealling public spaces so that everyone can enjoy the beauty of the Mandai nature precinct.
"Our vision is to create an integrated nature and wildlife destination, nestled within our bustling city for all Singaporeans and tourists to enjoy. Generations of Singaporeans have grown up with Jurong Bird Park and the wildlife parks in Mandai. This project provides an opportunity for renewal, and to deepen our collective affinity with the nature and wildlife of our region."
Extracted from
http://www.straitstimes.com/singapore/environment/mandai-to-become-an-eco-tourism-hub-featuring-2-new-wildlife-parks-eco
---
3. Jewel Changi
Construction of Singapore's new structure for Changi Airport, the Jewel Changi is underway.Images of how the project looks when it's finished show impressive steel-and-glass biosphere-style structures filled with plants and a gigantic waterfall.
Scheduled for completion in 2018, if all goes according to plan, Project Jewel is likely to cement Changi's reputation who is recently named SkyTrax World's Best Airport for the third consecutive year.
The massive donut-like structure at its core will be 10 stories — five above ground and five underground — integrating airport facilities, with retail and leisure outlets. There'll also be playgrounds and a hotel.
More than simply a new terminal, Jewel Changi Airport will be constructed on the site of the old parking lot fronting the existing Changi Airport's Terminal 1, and will be "seamlessly connected" to the existing terminals, according to the airport.
Maintaining Singapore's reputation as the "garden city," Jewel Changi's centerpiece will be Forest Valley, a five-story garden with thousands of trees, ferns and shrubs.
Commuters will even be able to take a hike up the valley, bringing outdoor activities in nature into an indoor environment.
Cascading through Jewel's donut hole, in the middle of the forest, will be the 40-meter-high Rain Vortex. On completion, it'll be the world's tallest indoor waterfall, according to the airport. At night, the Rain Vortex will transform into a light and sound show.
Four different gateway gardens will feature unique landscape elements. The North Gateway Garden, for instance, will use the trunks of rain trees recycled from the airport's old open-air parking lot. On the top level, Canopy Park will have gardens, walking trails, playgrounds and eateries spanning approximately 13,000 square meters.
---
Aren't all these developments exciting? While we know how the future landscapes and appearance of Singapore will change, we do not know if Singapore as a nation can continue to prosper like we did for the last 50 years. Here's what late Mr Lee Kuan Yew, our Founding Father had to say about Singapore's future.
Q How confident are you that Singapore will survive you?
Mr Lee All I can say is I think Singapore is safe for 10 years. No trouble because there's a team in place that will handle it. Whether it will be 15, 20, 30 years depends on them getting a team of players very soon. Part of the team is in place but you need a leader man. You need somebody who can communicate, who can mobilise people, move people. It's not enough to have a good policy. You got to convince people.
Q What about beyond 10 years?
Mr Lee I think there will come a time when eventually the public will say, look, let's try the other side, either because the PAP has declined in quality or the opposition has put up a team which is equal to the PAP and they say, let's try the other side. It must come.
Q How will it happen?
Mr Lee It depends on when it happens and whether it happens all of a sudden or it happens gradually. If the decline in standards happens gradually, an opposition will emerge of quality. I mean, the public can sense it.
I think the more likely is a gradual evolution because it is most unlikely the way we have evolved the party and the renewal of the party leadership that you will get such a clash of opinions that it will divide the whole leadership, the MPs and the party machinery into two, or into one major part, one minor part.
Q What will happen if it takes place suddenly?
Mr Lee If it is sudden, well, you're landed with an emergency. In that emergency I think the people will just take somebody like me and a few of those friends and say look, let's make a bid and stop this from going down the drain.
Q What could possibly make it happen suddenly?
Mr Lee You have a rumpus in the leadership. They disagree profoundly, either for reasons of principle or personality and suddenly it breaks up… I cannot tell you what's going to be in maybe 20, 30, 40 years, not possible. We might have a genuine difference of perspective what the future should be, what kind of Singapore will survive and thrive in that future. We might have a clash. I don't know. I've lived long enough to know that nobody settles the future of his country beyond more than a decade or so of his life. Stalin grabbed the whole of eastern part of Europe, grabbed all the Asian republics right up to Siberia, took Outer Mongolia which belonged to China under his wing. That's 1945. He's dead. 1950s or -something, Khrushchev came up. 1992, it dissolved – less than 40 years. They threw up a Gorbachev who never went through a revolution, who did not know that he was sitting on a boiling cauldron.
Q So there's nothing that can be done to prepare us for that eventuality?
Mr Lee Can anybody tell you how to prevent, from getting a stroke or an accident? That you will eventually die is a certainty, right? But how you will die, nobody can tell you.
Q What is your greatest fear for Singapore?
Mr Lee I think a leadership and a people that has forgotten, that has lost its bearings and do not understand the constraints that we face. Small base, highly, technically, organised, very competent people, complete international confidence, an ability to engage the big boys. You lose that, you're down. And you can go down very rapidly…
No system lasts forever, that's for sure. Ten years, I don't think it'll happen; 20 years, I can't say; 30 years, even more I cannot tell you. Will we always be able to get the most dedicated and the most capable, with integrity to devote their lives to this? I hope so but forever, I don't know.
As I re-read these extracts now, he seemed more tentative and ambivalent about Singapore's future than I had ever heard him.
Who can tell what might happen beyond 20 years?
The PAP might still be around, but, then again, it might not.
But he had an underlying confidence in the people, that if they sensed Singapore was heading downhill, they would rally around another group and "stop this from going down the drain".
Of all the things he had said about the future, that's worth remembering.
---
---
http://www.straitstimes.com/opinion/singapores-future-according-to-lee-kuan-yew
---