The Story of Karen Carpenter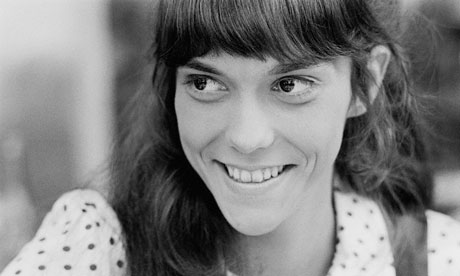 Karen Carpenter, Paris, 1971. Photograph: Shepard Sherbell/CORBIS SABA
The Carpenters were one of the biggest-selling American musical acts of all time. Between 1970 and 1984, brother and sister Richard and Karen Carpenter, had 17 top 20 hits, including "Goodbye to Love", "Yesterday Once More", "Close to You" and "Rainy Days and Mondays". They notched up 10 gold singles, nine gold albums, one multi-platinum album and three Grammy awards. Karen's velvety voice, coupled with Richard's airy melodies and meticulously crafted arrangements, stood in direct contrast to the louder, wilder rock dominating the rest of the charts at the time. Yet, they became immensely popular, selling more than 100 million records.

Richard was the musical driving force, but it was Karen's effortless voice that lay behind the Carpenters' hits. Promoted from behind the drums to star vocalist, she became one of the decade's most instantly recognizable female singers.

But there was a tragic discrepancy between her public and private selves. Offstage, away from the spotlight, she felt desperately unloved by her mother, Agnes, who favoured Richard. Karen struggled with low self-esteem and eventually developed anorexia nervosa from which she never recovered. She died at the age of 32.
In 1996, journalist Rob Hoerburger powerfully summed up Karen Carpenter's tribulations in a New York Times Magazine feature. "If anorexia has classically been defined as a young woman's struggle for control, then Karen was a prime candidate, for the two things she valued most in the world – her voice and her mother's love – were exclusively the property of her brother Richard. At least, she could control the size of her own body." And control it she did. By September 1975, her weight fell to 6 stones 7 pounds (41kg).
As with any other mental illness, eating disorders are complex, multi-layered diseases that arise from various psychological, mental and emotional issues that vary from individual to individual. However, there are a few broad issues that have been observed to lead to eating disorders.
 • Depression
• Body image, as promoted by the media as well as peer and parental pressure. The comments and attitudes of friends and parents can also cause an individual to develop certain negative perceptions regarding their bodies.
• Past traumatic experiences such as physical, emotional or sexual abuse.
• Emotional upheaval such as major changes in an individual's life (for example, the loss of a friend or family member, ending of a relationship, moving to a new home, school or job, major personal disappointments.)
• Individual's need for control. Various factors could result in the individual feeling a loss of control over their lives, resulting in the use of their bodies and eating habits as a means of reclaiming control.
• Obsessive Compulsive Disorder
 What should I do when someone I know has an eating disorder?
Support is extremely important for someone experiencing an eating disorder, even if they might act like they do not want your help. Let your friend know that you are there for him/her by providing a listening ear and reassuring and affirming him/her in their inner beauty. Let them know that what they're doing is unhealthy and you want to help. You should not exert excessive pressure on him/her to seek treatment, as this may result in a worsening of the relationship or ineffective treatment. However, if the disorder has reached a life-threatening level, you should inform a figure of authority that you feel is trustworthy (teacher, parent etc.) in order to get your friend the emergency help he/she needs.
---
You are more than how you look. Read now: