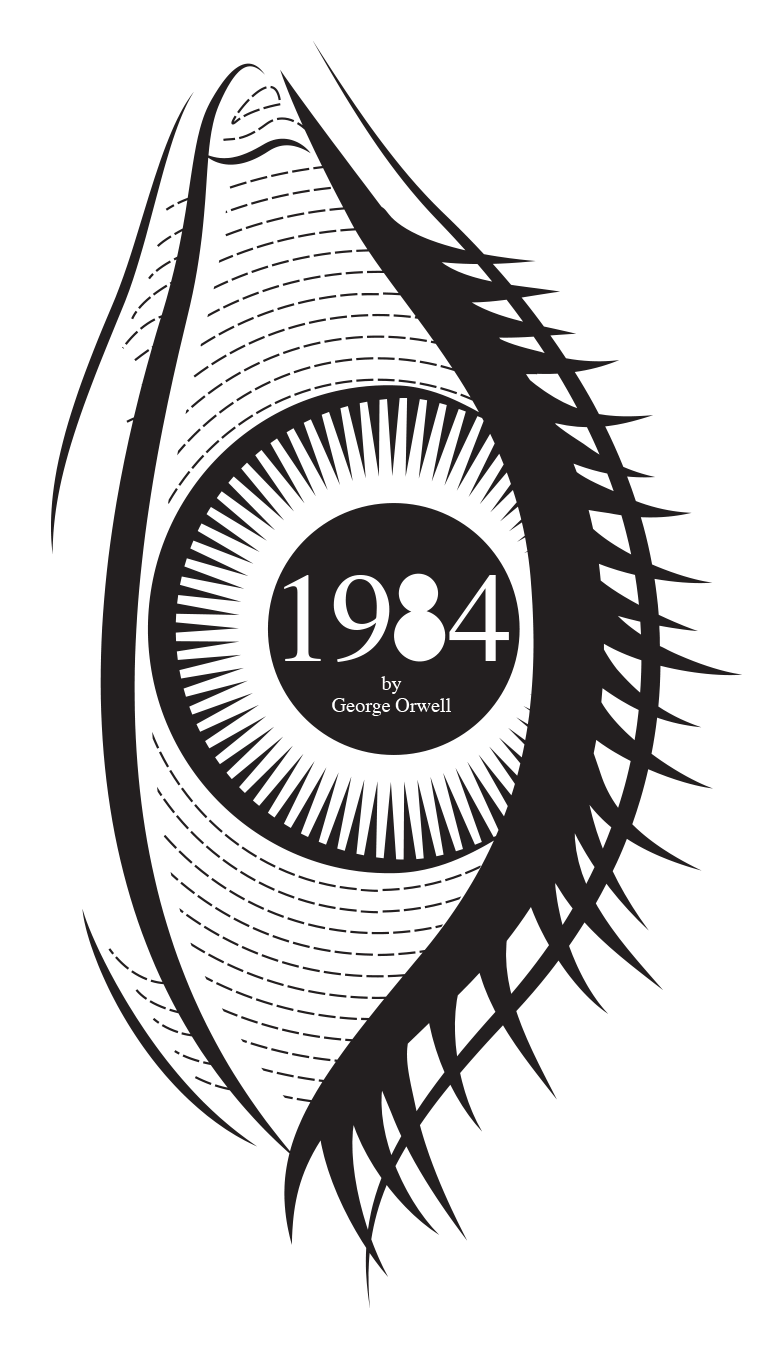 In George Orwell's 1984, Winston Smith wrestles with oppression in Oceania, a place where the Party scrutinizes human actions with ever-watchful Big Brother. Defying a ban on individuality, Winston dares to express his thoughts in a diary and pursues a relationship with Julia. These criminal deeds bring Winston into the eye of the opposition, who then must reform the nonconformist. George Orwell's 1984introduced the watchwords for life without freedom: BIG BROTHER IS WATCHING YOU.
Background
In 1984, Orwell creates a technologically advanced world in which fear is used as a tool for manipulating and controlling individuals who do not conform to the prevailing political orthodoxy. In his attempt to educate the reader about the consequences of certain political philosophies and the defects of human nature, Orwell creates a dystopia, a fictional setting in which life is extremely bad from deprivation, oppression, or terror. Orwell's dystopia is a place where humans have no control over their own lives, where nearly every positive feeling is squelched, and where people live in misery, fear, and repression.
Orwell wrote 1984 just after World War II ended, wanting it to serve as a warning to his readers. He wanted to be certain that the kind of future presented in the novel should never come to pass, even though the practices that contribute to the development of such a state were abundantly present in Orwell's time. He lived during a time in which tyranny was a reality in Spain, Germany, the Soviet Union, and other countries, where the government kept an iron fist (or curtain) around its citizens, where there was little, if any freedom, and where hunger, forced labour, and mass execution were common.
Orwell espoused democratic socialism, a political belief that both the economy and society should be run democratically—to meet public needs, not to make profits for a few. Orwell used his writing to express his powerful political feelings, and that fact is readily apparent in the society he creates in 1984. Although fictional, the society created mirrors the political weather of the societies that existed all around him. Orwell's Oceania is a terrifying society reminiscent of Hitler's Germany and Stalin's Soviet Union — complete repression of the human spirit, absolute governmental control of daily life, constant hunger, and the systematic "vaporization" of individuals who do not, or will not, comply with the government's values.
Orwell despised the politics of the leaders he saw a rise to power in the countries around him, and he despised what the politicians did to the people of those countries. Big Brother is certainly a fusing of both Stalin and Hitler, both real and terrifying leaders, though both on opposite sides of the philosophical spectrum. By combining traits from both the Soviet Union's and Germany's totalitarian states, Orwell created Big Brother that was so easily recognizable, having heavy black moustaches and charismatic speaking styles synonymous to both Hitler and Stalin. He makes sure that the reader of 1984 does not mistake his intention — to show clearly how totalitarianism negatively affects the human spirit and how it is impossible to remain freethinking under such circumstances.
During his time in Spain, the group with which Orwell was associated was accused of being a pro-Fascist organization, a falsehood that was readily believed by many, including the left-wing press in England. As a reflection on this experience, in 1984, Orwell creates a media service that is nothing more than a propaganda machine, mirroring what Orwell, as a writer, experienced during his time in Spain.
Similarly while working with the BBC during World War II when certain kinds of restrictions limiting what news could be disseminated were common, Orwell became disturbed by what he perceived to be the falseness of his work. It is noteworthy that Winston Smith, the main character in 1984, works in the media and is responsible for creating what is, essentially, deceptive propaganda. In fact, it is Winston's position in the media that gives the reader the most insight into the duplicity of the society in which he lives and therefore, the society that Orwell most condemns.
---
Or Read
---
Adapted from
https://www.cliffsnotes.com/literature/n/1984/1984-at-a-glance
https://www.cliffsnotes.com/literature/n/1984/about-1984
https://www.dsausa.org/about-us/what-is-democratic-socialism/
10 Reasons Why the Book 1984 Still Matters
George Orwell